_Sponsors_
___ ______
Written by Administrator
Friday, 18 February 2011 11:50
TPR Warm Up Game!
Here's the first part of my online workshop videos.

And here is how to use the warm up to review in each new lesson....



This is a game that is great do at the beginning of nearly every lesson. Its gets the kids lively and active and helps their listening skills, and if they can learn to stand up and sit down quickly you won't be wasting time later on in the lesson! From then on you add in new words each week, and is really effective. It's basically TPR, total physical response, although with limited class time it's usually better to get the kids repeating the words as soon as you can.




At the beginning you simply shout out commands at the kids. First of all simple things like "Stand Up" or "Sit Down" are OK, along with "Good Morning" (great to practice the Good Morning Song! ). Also, try tricking them by saying "STAND UP" when they are already standing up!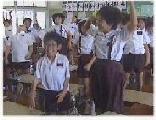 As you meet the kids more you can add words such as JUMP, SPIN (a big favourite), EAT, DRINK, CHEER, CLAP,



| | |
| --- | --- |
| | |
| GOOD NIGHT (they go to sleep) | GOOD MORNING ! |

Later BOY, GIRL can be added (much laughter when boys stand up when you say "GIRLS STAND UP"). Also BIG, SMALL e.g. BIG JUMP, LITTLE JUMP and QUIET, LOUD e.g. QUIET CLAP, LOUD CHEER.

Even 1st Years can get quite advanced with things such as "GIRLS,?@5 BIG SPIN JUMPS"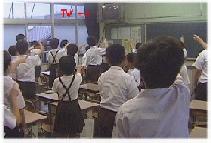 Or try using "PLAY" e.g. "Play Piano, Play Tennis" or things like "Watch TV"

For "Clap" or "Cheer" get them to vary the volume as you raise or lower your arm - it's a great "volume control" for the moments when you do want them to be quiet!!!

If you want some more words, try "cry" or even "zip it!"

Once you get past these basics, try some other topics from the songs, and then start using series of phrases that the kids can use. You don't just have to stick to commands!
Then try the past or future tenses, i.e. basically do the same thing but point to a calendar on the wall first.
Then you can start moving on to stories. A good way to do this is to get your kids to think of stories in groups in their native language, translate them and use them in the next class! For the stories, things like Spiderman, Harry Potter or famous characters are best!


Basics
Funky Stuff

Routines
Past Tense
Famous Stories
Stand up
Sit down
Spin
Jump
Bow
Watch TV
Play...
etc.

Surf in Hawaii
Do sumo wrestling
Eat hot kimchi
Walk on a hot beach
Go on a waterslide
I like sweet apple pies
She's eating sour lemons

(( get the kids to
think of their own!)

Open your eyes
Wake up!
Stretch your arms
Yawn
Get out of bed

Have a shower
Have breakfast

I left the house
I got on my bike
I looked at my watch
I was late!
I rushed to school
I crashed my bike!

Hello,
My name's Harry Potter
I'm a wizard
I have a magic wand
I can cast magic spells
This is my friend Hermione
My favourite sport is Quidditch
Today I....
Here's the game in action with a real class
Here's the first 10 minutes of my standard demo class. Hopefully you'll get some ideas and see how good even beginner students can be with a little motivation and music thrown in there.

It's of a small school where I taught all the grades together. They have had a few lessons before, but the Rock, Paper, Scissors song was their first time.



Last Updated on Friday, 18 February 2011 14:03
________
Flash Cards ||
Songs For Kids||
Free Games ||
Gogo's Adventures with English ||
Teaching English For Childern||
ESL/EFL Kids Course ||
Designed by Teaching English For Kids. Moodle Themes web hostingValid XHTML and CSS.